Chiropractic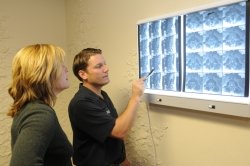 Dr. Joel was formally trained as a doctor of chiropractic and has added multiple advanced degrees, specialties and certifications that complement his comprehensive treatment methodologies. He is dedicated to delivering the highest quality care to his patients and ensures each patient understands their problem and options for treatment.
Chiropractic addresses the structure and function of the body and can be an integral part of a treatment. Dr. Joel recognizes the importance of specific adjustments in both the spine and extremities, but also recognizes that addressing the soft tissue is an important (and often overlooked) component to multifactoral injuries. In addition to manipulative techniques, Dr. Joel may utilize techniques that include facilitated stretching, active myofascial release, kinesiotape as well as exercise based therapies.
Dr. Joel is an excellent diagnostic clinician and prides himself on being a problem solver, providing solution-based care. He recognizes when referrals are necessary and has an excellent rapport and communication with many of the best specialists in the Vail Valley.
When choosing care from Dr. Joel, you know you are in some of the best hands available in the profession.