Dr. Joel Dekanich: Teaming Up With DC's, MD's, PT's and PHD's…& Loving it!
Publication Date: October 13, 2007 in The American Chiropractor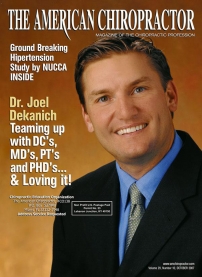 Dr. Joel Dekanich is a 1994 graduate of Palmer College of Chiropractic in Davenport, Iowa, who practices in Vail, CO.
Beginning his practice as a sole practitioner in 1995, follow- ing a year long fellowship with extremity expert Mitch Mally, DC, Dekanich became a certified strength and conditioning specialist in 2002, certified Chiropractic Sports Physician in 2003, Emergency Medical Technician in 2005 and received his diplomate of the American Chiropractic Board of Sports Physicians in 2006.
Since graduation Dr. Dekanich has always believed chiro- practic should be a primary discipline in conjunction with allied health providers. For the past ten years and unconventional at the time, he teamed with a physical therapist to run the rehabili- tation and strengthening department of the office. "It's simple and sensible," stated Dekanich, "that my area of expertise is specific adjustments to both the spine and the extremities and the physical therapist's expertise is in treatment and specifically rehabilitation of an acute or chronic injury." "Also, like most chiropractors I don't have 30-45 minutes to spend with a patient in rehab."
"That started what is now a multidiscipline group comprised of 3 DC's, 3 MD's, 3 PT's, 1 PhD in clinical psychology, nu- merous massage therapists, and an acupuncturist in 3 locations throughout the Vail Valley. Our mission statement is simple....
Download the PDF by clicking on the link above to read the article in it's entirety.